Hope everyone is having a great weekend so far! I've been busy with cooking, cleaning, and hanging out with friends. Friday night a few of us went to the Spokane Oktoberfest to try out a few beers from over 20 different breweries. It was a great time out with friends being beer connoisseurs.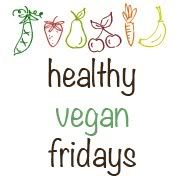 For Healthy Vegan Friday I will be featuring the soup I had for dinners and I featured in this week's
What I Ate Wednesday
. My sister-in-law Katie sent me this recipe after she had described it to me as "Amazing!" I found it to be a great recipe to use up some of the vegetables I had left from the veggie trays at our reception (
the carrots and celery
). It is so simple, yet delicious. Hope you give it a try!
2 large leeks, roughly chopped
6 medium potatoes (or equivalent red potatoes), diced
2 medium carrots, sliced
2 medium celery stalks, sliced
8 cups water
2 cups non-dairy milk (optional)
Salt and pepper to taste
Some suggested spice combinations:

1/2 tsp thyme and 1/2 tsp marjoram
1 tsp rosemary
1/2 tsp basil and 1/2 thyme
Chop the leeks, carrot, and celery, and water saute in a dutch oven or large pot for about 10 minutes.
Add your selected spices to the vegetables while they are sauteing.
In the meantime, scrub potatoes and chop into 1 inch chunks (peeling optional).
Add potatoes, water, and salt to pot.
Bring to a boil.
Cover and reduce heat to simmer for 20-25 minutes or until potatoes are soft.
Use an immersion blender to puree the soup to a creamy consistency.
Stir in milk to thin and give a creamier taste (optional).
This a fairly versatile soup in how you decide to make it. I used red potatoes and left the skin on, but you could easily use russet potatoes and choose to leave the skins on or off. Also, if you don't happen to have leeks on hand, you might be able to use an onion or three in replacement. The spices in this recipe are also very versatile. Whatever your spice/dried herb preference, give it a try with this soup. From the pictures you can tell that the soup in the pot is not as light in color as the soup in my bowl. This is because I added a bit of almond milk once I served the soup. This worked well for Kevin and I because he preferred to add his regular milk while I added my non-dairy milk. This little trick also is great for saving room in your fridge with the leftovers. If you don't add the milk until you are going to eat the leftovers, it will allow you to store thicker soup in smaller containers to save room in the fridge.
What is your favorite versatile recipe or your favorite recipe to use up vegetables in your fridge?