Oh my goodness! I can't believe it has been so long since my last post! Instead of listing the excuses, I'm going to just get down to updates of my life! Since I last posted we have gotten a bunch done on wedding stuff including making the display cake, and making and sending out the invites.
My mom has made our display/cut cake for the wedding day and froze it. Its definitely not enough to feed all of our guests, so we are getting Costco cakes to serve. I think she did a wonderful job and it looks so professional! We calculated it out to cost about $20, whereas a cake this size professionally done would be maybe $200. (Please note that this is NOT nutritiarian food!) Here are a few pictures:
The cake with the base frosting and ribbon encircling.
The cake with all of the detail: large shells on bottom,
swirling lines on the large tier, and pearl drops between the layers.
We have also gotten all of the invites sent out and have already been receiving RSVPs back from those awesome "on-the-ball" people. Here is our invite that April, one of my bridesmaids who is wonderful at calligraphy made, in which the original was copied and reprinted. Everyone I've talked to so far has mistaken it for handwritten. For April's sake, she is very happy she didn't have to make over 80 handwritten invites! Obviously for the sake of privacy, I have blurred out the addresses. In the reprint of it the red and blue were a bit darker.
Now on to the real FOOD!
I was so happy to get invited by Shelby from
Everyday Vegan Girl
to join in her blog party that she has recently created with Carrie from
Carrie On Vegan
and Gabby from
Veggie Nook
(all are great blogs and you should check them out!). This is the first ever "Healthy Vegan Friday", I hope it is a success, and I think I will continue to do this every Friday! Hope you enjoy!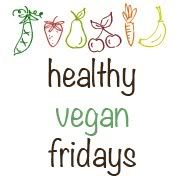 Sweet and Savory Wheatberry Salad
Ingredients:
Dressing:

1/4 cup red wine vinegar

2/3 cup almond milk

1/2 cup almond butter

1 lemon juiced (~3 Tbsp)

Salad:

1 cup uncooked wheatberries
1/2 cup craisins (dried cranberries)
1 c celery, cut in half lengthwise and roughly chopped
1/2 cup red onion, finely chopped
1/2 cup slice almonds
2 cups roasted brussels sprouts, quartered (recipe here)
4 cups baby spinach, roughly chopped
pepper to taste
In a blender, combine all ingredients for the dressing and blend until smooth and creamy. This will make more dressing than you may desire on the salad, so I suggest storing the rest and using later.
Cook the wheatberries on the stovetop:
rinse the wheatberries in a strainer
place them in a medium sized saucepan and cover with at least 2 inches of water
bring to a boil, then reduce heat, cover, and simmer
the wheatberries will be done between 1 and 1 1/2 hours
test the wheatberries to be soft, yet chewy before you take them off the stove
many other websites suggest soaking the wheatberries overnight, but I didn't find this necessary
pour the wheatberries into a strainer and run cold water over them to cool
In a large (seriously, a large bowl), stir together the wheatberries, brussels sprouts, craisins, celery, red onion, and sliced almonds.
Add the chopped spinach and stir well to combine.
Finally, add the sweet almond dressing and stir, being cautious not to add too much. Once the salad is well coated, pepper to taste and serve chilled.
Amy's Notes:
The dressing recipe above definitely makes too much dressing than the salad will need, so make sure not to dump it all on top before stirring it in slowly. The dressing is great on other salads as well. I would suggest in order to save time to make the wheatberries and roasted brussels sprouts ahead of time. Also, this recipe keeps really well in the fridge for up to 5 days. I think it would be the perfect dish for a picnic or BBQ.... or lunches all week like I've been having it.
Do you have one day a week that you strictly eat vegan? Are you an everyday vegan? Are you toying with the idea of going vegan and why?