Happy Healthy Vegan Friday (2) to everyone! Find information on this awesome blog party at
this link
. I thought that for this week I would feature a recipe that I never meant to make. This seems to happen to me all the time: that I set out to make one dish, realize that something is missing that I needed, then make something completely different. This time it actually turned out to be yummier and more nutritious than what I was going to make in the first place!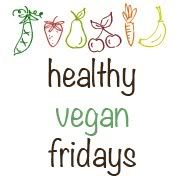 Two days ago my brother and sister-in-law (who is also one of my bridesmaids) had come into town for some wedding stuff and for a camping trip they were taking with some friends. Yesterday after we had spent a long day running around town, we made our way home to make some Mexican food for dinner. I arrived home sooner than everyone else because I had taken a separate car and they had made an extra stop, so I decided to start cutting the veggies. My mom also called ahead and requested that I make guacamole. I am a huge guacamole fan, so I, of course, got to work right away. I worked on chopping up the veggies and was going to add the avocado last to smash up and stir in. By the time I put my blade into the avocado, I knew it was too late. The avocado was hard as a rock and it was clear that we were not going to have guacamole that night.
My mom then suggested that I try making it into pico de gallo like we normally have with chips at local Mexican restaurants. So, I went ahead a chopped up some cabbage and a few more tomatoes, added some seasonings, and we ended up with a wonderful pico de gallo! We served it with chips along side our whole wheat taco shells and beans and veggie taco filling. The amount that I made of the pico de gallo was gone before the end of dinner, leaving everyone wanting more. I think my brother and sister-in-law enjoyed the most, and they are not even nutritarian like me and my parents!
Today my mom was going to reheat the bean taco filling for dinner and wanted to know if I could make the pico de gallo again, so I thought I would take my time and include pictures so I could feature a recipe here. I nearly made double of what I did the night before and it was still gone with only three of us eating it! Guess I know how to make me some good ole' pico de gallo!
1 1/2 to 2 cups chopped green cabbage
3 roma tomatoes, chopped (including juice and seeds from one)
1/4 red onion, finely chopped
1/4 to 1/2 fresh jalapeno, seeded and very finely chopped
1 stalk green onion, thinly sliced
1 handful cilantro, chopped
1 tsp minced garlic
1 tsp cumin
1 Tbsp rice vinegar
juice from one lime
1 tsp of your favorite hot sauce (optional)
salt and pepper to taste (optional)
Directions:
Prepare all ingredients and mix in a medium sized bowl. Serve chilled with chips, or as a topping for tacos, or as stuffing for bean burritos.
Amy's notes:
This recipe makes a pretty decent sized bowl of pico de gallo, but it seemed to go fast when we were using it for chips and for toppings on our tacos. I added a small amount of my favorite hot sauce (verde habanero) to the whole mixture to give it a bit more flavor in heat, but this is optional. I'm so happy that this recipe was such a hit to my whole family and that I was able to remember how to make it again since I wasn't trying to the first time!
Have you ever made any great recipes "accidentally"? If so, what was it and what were you originally trying to make?