Please forgive the briefness of this post! My fiance Kevin is (FINALLY) coming into town tomorrow and we are moving all of our things into our new apartment. Needless to say I am so excited and am counting down the hours! This week for Healthy Vegan Friday I am going to feature an older recipe of mine that my family and I have used over and over this summer. Here is my Mock Sabre Pine Nut Hummus, find the original post at
this link
. Hope you enjoy!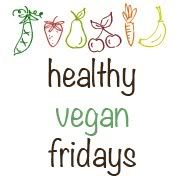 Pine Nut Topping

2 Tbsp raw pine nuts (option: toast in a pan on the stovetop)
2 tsp canola oil (option: use 1 tsp water and 1 tsp lemon juice)
1/4 tsp garlic powder
1 tsp dried basil
1 tsp dried parsley
1/4 tsp salt (optional)
pinch of cayenne pepper

Hummus:

2 cans garbanzo beans, drained, liquid reserved
1/2 cup tahini (sesame seed paste)
6 Tbsp fresh squeezed lemon juice
1/4 cup reserved bean liquid
2 Tbsp low sodium soy sauce (or 1 Tbsp regular soy sauce and 1 Tbsp water)
2 Tbsp water (more to achieve desired consistency)
1 Tbsp canola oil (optional)
1 tsp minced garlic
In a small cup, mix together all of the pine nut topping ingredients and let sit while you prepare the hummus.
In a large food processor, combine all hummus ingredients and process until very smooth.
Add water one tablespoon at a time to get desired consistency.
Scoop hummus into a shallow and wide tupperware bowl and flatten the top with a spatula.
Smear the pine nut topping over the middle.
If desired, sprinkle extra dried basil, parsley, and cayenne pepper around the edges of the hummus.
Serve chilled with crackers, veggies, or in sandwiches.
Amy's Notes:
This hummus has a great tang to it, and the spices on top with the pine nuts give it wonderful extra flavor. When you are going to serve the hummus, you can mix together the hummus and the toppings, but I know that my family and I prefer to pick at the toppings without mixing. The recipe that I have featured makes a very large batch of hummus (see reference picture), so if you do not go through hummus in such a timely fashion as we do at my house, I might suggest that you make a haft batch with only one can of garbanzo beans.
The next new recipe I make should be from my new apartment kitchen. I'm crossing my fingers for good lighting for pictures, and hopefully a kitchen layout that will inspire me to make some creative new recipes to share with you. Wish me luck in moving and getting organized! It will be a fun but crazy busy weekend for sure.